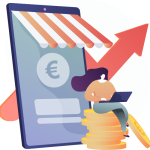 Number of shops (up to ...)
Solution designed for the management of local currency or € of municipality (up to 5 types) using the more than twenty configuration options available. Ideal for allocating municipal and / or social aid and / or subsidies (via DNI or home code), to create discount coupons, gift or preloaded cards and campaigns.
It allows you to generate bank documents, save purchase tickets and convert real money to virtual money.
It does not include transfer management (which can be done by the municipality itself) or TPV card fees, which are budgeted separately.
Cumulative exchangeable rewards in virtual €uros and points. Possibility of creating catalogs of prizes, raffles and loyalty cards. Multiple tools for users (intranet, corporate website, App). Multiple identification options.
Compatible with municipal services such as sports facilities and public car parks and interaction with other municipal entities.
This solution includes the configuration and maintenance, the parameterization of bonus euros, the registration of businesses and customers, raffles and campaigns, etc.
Loyalty cards (gift and/or preloaded) with a 0.76mm PVC barcode with customizable design on both sides (by the customer or by Moneder).
100 Cards: 150€. 500 Cards: 240€. 1.000 Cards: 380€. 2.000 Cards: 560€. 5.000 Cards:1060€.
It includes promotions, news and agenda (for establishments and entity), geolocation of establishments, list of affiliated establishments classified by sectors. Customizable establishment sheets.
Custom App (IOS and Android).
Website with standard design and subdomain of moneder.cat.
The solution allows you to decide what information is displayed and how it is displayed.
Option to send SMS, Push notifications and emails. All customizable. Intranet notifications can also be sent to establishments from the managing entity. Historical mails and internal notifications are saved. Data that can be consulted at all times on the messaging status.
The solution includes 500 SMS and 10,000 emails with the registration of the implementation by the managing entity.
You can contract more SMS and mails at very cheap prices. Moneder reports when these are running out.
Available SMS rates and packages: -4.000 SMS by 0,15 € / SMS = 600 € - 2.000 SMS by 0,16 € / SMS = 320 € - 1.000 SMS by 0,18 € / SMS = 180 € - 5.00 SMS by 0,20 € / SMS = 100 €
Packages of 20.000 emails
Each package of 20,000 messages costs €50. The messages are sent through an external service that increases delivery guarantees and is not classified as spam.
Through this solution, from the App, customers can reserve a day and/or time for all those establishments (restaurants, hotels, hairdressers, dentists, etc.) that want to offer this service. Both establishments and users have access to the respective reservation history. Users can leave comments when making the reservation and establishments can respond by confirming or rejecting it.
Menu reservations can also be made.
Each store can register up to 5,000 products. Includes custom design and parameterization. Up to four payment methods (physical, bank transfer, card and bizum) and two shipping methods (collection in store and via Correos). Three POS payment formulas.
Linkable to other Moneder solutions and linked to a global Marketplace: Moneder.market.
Moneder (separate budget) can streamline the implementation, manage payments and shipments and also promote the Marketplace.
Each business can have an online store with its image and web domain where it can sell its products independently. These products will be automatically displayed on the business's website, in the municipal Marketplace and in Moneder.market.
It includes 5,000 products for store, standard design (the store can be minimally customized) and Moneder subdomain: nomcomerç.moneder.org (the store can also buy its own domain from Moneder if it wants).
Link to POS and/or Marketplace. Dynamization by Moneder if the establishment wants it (separate budget). Option to import products massively.
The solution includes the possibility of integrating the existing Ecommerce of the establishments of the entity that want to be part of a municipal Marketplace.
Includes physical store management program (works online and offline), stock management, customer management and cash receipts, 5,000 products per store, linked to Ecommerce, Marketplace, Loyalty and Payment solutions.
Pack of 5.000 additional products for trade
Businesses that reach 5,000 products in the Marketplace, Ecommerce or POS (Point of Sale) solutions can purchase additional packages of 5,000 products.
TELEMATIC SUPPORT AND DYNAMIZATION. Number of 50-hour packages
Telematics support and dynamization may include:
Recruitment of establishments.
Personalized training for establishments.
Creation of graphic and/or audiovisual material.
Troubleshooting.
New developments or improvements required in Moneder solutions.
With the dynamizations, Moneder provides a telephone number and a specific email so that establishments and users can express their doubts or report their incidents. The solution offers different dynamization formulas.
LOCAL DYNAMIZER. Number of part-time weeks (20 hours)
This option speeds up the recruitment and implementation process as well as its start-up and also gives temporary work to a fellow citizen of yours.
A part-time mid-level technician will be hired (with the help of the town hall), familiar with the shops in the municipality (with communication skills and knowledge of the internet and the world of commerce).
The technician will be offered a gross salary, for week and part-time, of: €175; (Social security apart).
The technician will be trained by videoconference for two hours and will be sent to visit shops, under the coordination and supervision of the work by the City Council. Moneder will support all the incidents that the technician has. Cost: €425/week part-time (20 hours), we recommend a minimum of 2 weeks.