Ecommerce
Each business may have an individualized Ecommerce with products and stock linked to the Marketplace.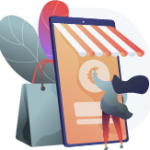 An online store with its own image and domain
Standard design (each business can minimally customize it)

Moneder subdomain: businessname.moneder.org or optional own domain.

Option to massively import products.

Stock control, sizes, weight, etc.

Various forms of payment:

Payment in store.

POS (card)

Transfer.

And PayPal.

Possibility of linking shipments with the Correos.es API, using Moneder credentials (with commission) or the business itself.

5000 products per store.
One small step for Moneder, one giant leap for all businesses
Because, truth be told, with this solution your products will become noticeable and affordable around the world.