Businesses can reward their customers with a configurable % of the amount of each sale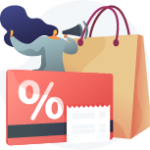 With Moneder, the word loyalty reaches a new level, thanks to the many options we offer
Businesses can reward their customers with a configurable % of the amount of each sale.

The solution can be configured with different loyalty models, as may be required.

The solution allows businesses to identify their customers and reward them in seconds.

Customers have a web intranet and an APP (optional and personalized) at their disposal.

Customers accumulate points or virtual euros, which they can use to pay for part of a further purchase.

Customers can identify themselves with a loyalty card, using their personal data or the APP.

Possibility of organizing draws and campaigns.

Possibility to create gift cards and preloaded cards.

Possibility to create a catalogue of prizes redeemable for accumulated points.

Detailed information and statistics of all operations made.

The businesses involved have a web intranet (accessible from a PC, tablet or mobile with internet connection) at their disposal.

The managing body has a web intranet at its disposal.

The solution has API features that allow you to easily connect to third-party or city council applications.
EVERYTHING is designed to obtain sustainable benefits for municipalities, entities and associations. Business, shops and restaurants. Citizens and customers.