Marketplace
Each business can sell its products from a website and from a shared App with other local businesses.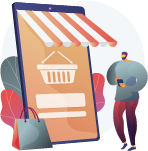 Image and brand

: Virtually, each municipality has its own Marketplace, with its own image and web domain, promoting only products and services of its businesses.

Management

: Each municipality is responsible for the management and promotion of its own Marketplace, but we can also take responsibility, with professionals acting on behalf of the municipality.

Data

: The client and purchase data is owned by the management body, so it can perform statistical studies and manage both online and offline marketing campaigns.

Payment

: Each municipality chooses the payment methods that its customers can use: POS (bank card), Paypal, transfer or payment on site. In addition, you can use:

Moneder POS: Moneder can take care of entering the sales in the shops, less a small fee.

Municipal POS: The managing body is responsible for entering sales in shops.

Business POS: Each business can have its own banking POS to deposit its sales directly.

Shipping

: Each municipality can set up different shipping methods: Mail (directly linked to the API of the postal company), shipping company or in-store collection. The managing body can:

Manage shipments throughout the municipality.
Allow certain businesses to manage their own shipments.
Delegate responsibility to Moneder: we process shipments with our "Correos" account at a very affordable price.

Loyalty

: We can link each municipal Marketplace with our powerful Moneder loyalty platform, rewarding customers with virtual euros, and win discounts for future purchases.

Moneder.market

: In addition, Moneder promotes a global Marketplace that serves as a showcase for every product of each municipal Marketplace and online store.
Includes 

5000 products per business

, custom design, parameterization, etc.
And that's just the tip of the iceberg.
There are so many possibilities that this solution offers, that make our heads spin just thinking about it…